Happy SCV Kids - By Magic!


661.513.4113


...
Happy Kids, Happy Mom & Dad Too!
Entertainment Your Guests and Child Will Never Forget!
Magical Greetings! My name is Doug Hoover and I have dedicated my talents to making memories for Santa Clarita families and their child's special day one they remember for ever!

So how do I do this?
By blending comedy, magic, puppetry, music, balloon animals and clowning around into a totally unique, one-of-a-kind, party entertainment your child, your family, and your entire neighborhood will NEVER forget!
"I just wanted to thank you so much for coming back again and giving Christina such a magical and memorable birthday! Not only did the kids enjoy your show again, but the adults thought you were fabulous as well. I know both my girls are already planning to have you back for their birthdays next year!" Thanks again, Tricia Lee, SCV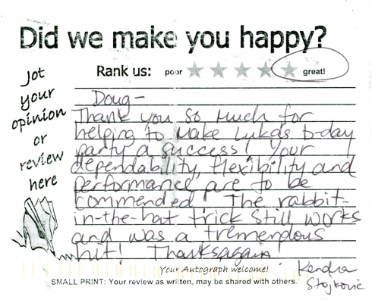 Doug-
"Thank you so much for helping make Luka's b-day party a success! Your dependability, flexibility and performance are to be commended! The rabbit-in-the-hat-trick still works and was a tremendous hit!"
Thanks again! Kendra Stojkovic, Santa Clartia, CA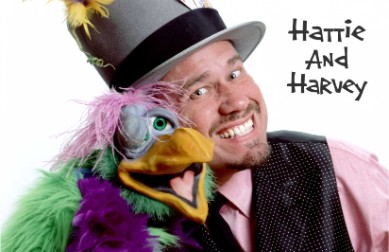 "Thank you for today Doug, all of the kids had the best time!!"
Stephanie Sullivan, Valencia, CA


Watch The Video To See The Fun!
Happy Mom - Second Time Around!


Mom Say's Son Had a Great Time!

Get more details right away on Birthday Party Magic Shows by filling out this form and clicking submit:

Would you like to see more videos and information about Doug's Magic Shows
? Click and Go To:
SCV Magician Doug Hoover
Serving Valencia, Saugus, Newhall, Castaic,
Stevenson Ranch, Canyon Country
and all of the
Santa Clarita Valley!